learn what sets us apart
Frequently Asked Questions
Located in Mills River, NC, Forge Valley Event Center has become a popular event space for weddings and other events. Our venue is the perfect place to make memories while celebrating any special occasion.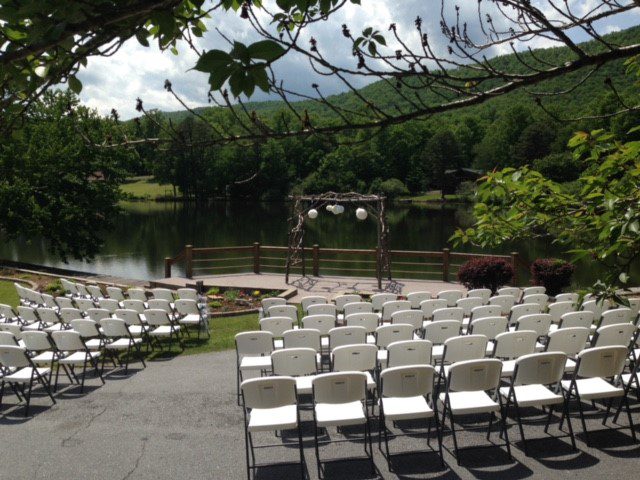 Questions About Our Venue?
We've Got The Answers
We're sure you may be looking for answers related to your special event. From catering and alcohol to music and parking, we have answered the questions we are most frequently asked here. Don't hesitate to contact us should you have a need not addressed on this page. We look forward to hearing from you!

How Can We Help?
Frequently Asked Questions
Do you allow outside vendors?
YES! We do give our clients the flexibility to bring in their own vendors. However, we can handle all catering and or entertainment needs that you may have. Outside vendor fee may apply. See our Recommended Vendors list.
Do you allow alcohol?
Yes with signed waiver by client. Beer and wine only and it must be an open bar situation. We have vendors available for cash bar if desired.
What is required to book?
Typically a 50% deposit (of invoice) will hold all dates and the balance isn't due until our final 3 weeks prior to meeting.
How do I schedule a tour?
We work by appointments only, therefore please call 828-674-6741 to schedule an appointment with your event planner.
Do you have a vendor list?
Can I do my own music?
Yes. We have the capabilities of playing an iPod, CD or computer inside or outside.
Is parking ample and close to the facility?
Are restroom facilities adequate?
Yes. Women's restroom has a total of 7 spacious stalls and the men's has 3 stalls and two urinals.
Does the facility have adequate air conditioning? Adequate heating?
Are there restrictions on decorations, flowers or candles?
Yes. Candles must be fully enclosed and flowers must be in proper containers so water will not leak.
Is there a cleaning deposit?
No charge unless left a mess.
What is the cancellation policy?
No refund if event is canceled within 6 months of event date.
Are there any discounts available?
Yes. We give discounts to all active military and discount for weddings booked Sunday-Friday.
How many guests can this venue seat?
Max 200 at a full dinner setting
How much time will be allowed for my event?
We book weddings by the half-day (8 hours) or all day (15 hours) time blocks. All set up, event time and breakdown time must be completed within the 8 or 15-hour time block. Additional time may be added at the current hourly rate. Ask the event planner for current hourly rate. No admittance to the property before or after your scheduled rented time block without additional fees.
What is the policy on smoking?
Smoking is permitted outdoors only. Cigarette butts must be put in the proper containers to avoid any cleaning fees. Absolutely no smoking inside.
Are pets allowed?
Pets are allowed only inside of our cottage and outdoors on a leash. Pets will not be allowed inside the event center unless it is a service dog.
Ready to Learn More?
Contact us today to talk to our Event Consultant.